The Product Managers Association of Los Angeles (PMA.LA) was created after I moved back to Los Angeles and wanted to embed myself into the digital product community in town but found there was no network and there were no events that people could come together around. It is hard to believe that in this day of the rising Product Manager role and in a city the size of Los Angeles there was nothing – so I started a simple Meetup group in 2012.
The popularity of the group quickly grew as we held meetup events and we've received corporate support and sponsorship from several leading companies including YP.com, Savings.com, Oversee.net, Shopzilla, and Fandango. By 2014, the has group reached nearly 1,000 digital product professionals in its ranks, and so we decided it was time to host a major annual event called ProductCamp. ProductCamps are held in just about every major city around the World and serve as free community-driven regional conferences. We expect 200+ people to join us for our for ProductCamp.LA on March 1st.


In 2005, I founded eRomance.com, an online dating community that reached 45,000 active members at its peak. On the heals of the success I found with the travel sites, I conducted a number of market research experiments and found that online dating advertising was providing healthy returns. With that business basis, my background in Psychology and personality research from college, and my interests in using technology to connect people – this seemed like a good area to create my next web product.
I worked closely with an outsourced development team to implement a scalable Java architecture (Struts/Hibernate), and defined wireframes and SEO driven UI architecture. For the next 2.5 years, we worked closely together to iterate features. Meanwhile I also drove an elaborate SEO strategy that led to 10,000 pages of unique and custom written content that yielded 5,000 unique visitors per day and a top 5 Google ranking for the highly competitive term, 'Online Dating'. I was in the process of transitioning to paid community that leveraged paid search marketing (SEM) when the opportunity to sell the product presented itself.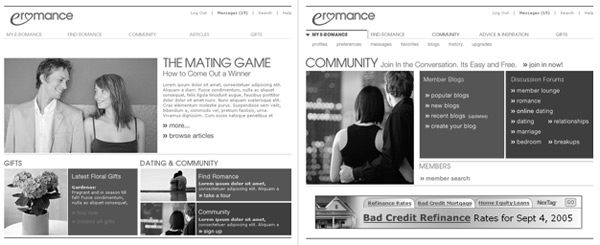 In 2003, I was fortunate to have picked up a few high-quality domain names and was interested in building something. I had also just completed building ModelX, an open-source XML-centric MVC framework, and wanted to build a commercial product around it. My interest in travel and consumer Internet led me to develop Hotel.us. I did a little research and found that Hotels.com had recently made an XML API available for reselling their hotel inventory. I built the Hotel.US user experience around their API and began to learn about SEO to drive traffic.
At the time, it was very easy to drive organic search traffic will a little effort spent on link building and I saw the potential so i built a number of satellite sites that specialized in city-specific hotel search. I also eventually launched a more robust travel website called TravelUSA that combined rich travel guide content with the ability to also book airfare and rental cars. After a couple years of freetime effort to drive traffic and optimize my conversion funnel, I was generating $70,000 per month in sales. I was approached to sell the properties in 2005 and used the proceeds to develop eRomance, a year later.